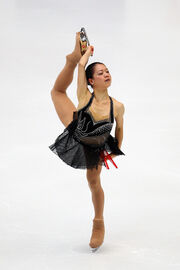 Most Recent Results:
Event
Points
Finish
Year
Japanese Nationals
179.27
2nd
2011
Grand Prix Final
179.76
2nd
2011
Born in Toyohashi, Aichi, Akiko Suzuki is a Japanese Figure skater. Suzuki is the 2007 Winter University Games Champion.
She won the bronze medal at the 2001-2002 Junior Grand Prix Final and has competed at both the World Junior Figure Skating Championships and the Four Continents Championships.
After having a successful junior career, Suzuki took some time off from competitive skating due to Anorexia problems. She did not compete at all in the 2003-2004 season. She came back to competitive skating in the 2004-2005 season after being inspired by Shizuka Arakawa winning the 2004 World Championships.
She is coached by Hiroshi Nagakubo and Yoriko Naruse.
Programs
Edit
Season
Short Program
Free skating
Exhibition
2011–12
Hungarian Rhapsody
by Franz Liszt
choreo. by Anjelika Krylova
Die Fledermaus overture
by Johann Strauss II
choreo. by Pasquale Camerlengo
You Haven't Seen the Last of Me
by Cher
Show Me How You Burlesque
by Christina Aguilera
choreo. by Anjelika Krylova
2010–11
Tango Jalousie
by Jacob Gade
choreo. by Kenji Miyamoto
Fiddler on the Roof
by Jerry Bock
choreo. by Pasquale Camerlengo
Bellezza
by Wibi Soerjadi 
choreo. by Akiko Suzuki

---

Ice Queen
by Paul Dinletir 
Prophecy
by Harem
choreo. by Miki Sakagami and JANSU

---

Tennessee Waltz
by Patti Page
choreo. by Akiko Suzuki
2009–10

Andalucia
by Bill Whelan
Fire Dance
by Bill Whelan
(from Riverdance)
 choreo. by Kenji Miyamoto

West Side Story
by Leonard Bernstein
choreo. by Shae-Lynn Bourne
Caribe
by Michel Camilo
choreo. by Kenji Miyamoto
2008–09
La Campanella
by Franz Liszt
Dark Eyes (song)
by Francis Lai
Libertango
by Ástor Piazzolla
2007–08
Firedance from Riverdance
by Bill Whelan
Titanic
by James Horner
Titanic
by James Horner
2006–07
Firedance from Riverdance
by Bill Whelan
Piano Sonata
by Ludwig van Beethoven
It's A Beautiful Day
by Sarah Brightman

---

Nocturne
from Songs from a Secret Garden
by Rolf Lovland
2005–06
Bolero Fantasy
by The Planets
Piano Sonata
by Ludwig van Beethoven
2004–05
Bolero Fantasy
by The Planets
Salome
by Richard Strauss
2003–04
Bolero Fantasy
by The Planets
The Red Violin
from Rodorigo
2002–03
Introduction and Rondo capriccioso (Saint-Saëns)
by Camille Saint-Saëns
The Red Violin
from Rodorigo
2001–02
Piano Concerto
by Frederic Chopin
Romeo and Juliet (1968 film)
by Nino Rota, William Walton, and Sergei Prokofiev
Competitive highlights
Edit
Post-2004
Edit
| Event/Season | 1998-1999 | 1999-2000 | 2000-2001 | 2001-2002 | 2002-2003 | 2003-2004 |
| --- | --- | --- | --- | --- | --- | --- |
| Four Continents Championships | | | | 8th | | |
| World Junior Figure Skating Championships | | | 7th | | | |
| Japanese | | | 4th | 4th | 9th | |
| Japanese | 3rd | 5th | 2nd | 5th | 5th | |
| Junior Grand Prix, Final | | | | 3rd | | |
| Junior Grand Prix, China | | | | | 5th | |
| Junior Grand Prix, China | | | | | 1st | |
| Junior Grand Prix, Final | | | | 1st | | |
| Junior Grand Prix, Final | | | | 3rd | | |
| Junior Grand Prix, Norway | | | 8th | | | |
| Junior Grand Prix, Norway | | | 6th | | | |
Suzuki did not compete in the 2003-2004 season
References
Edit
External links
Edit