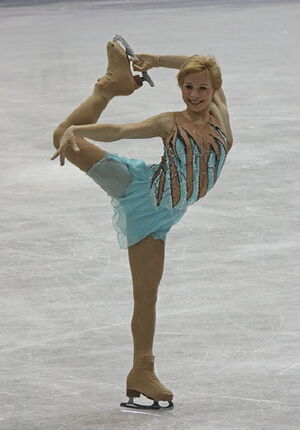 Most Recent Results:
Event
Points
Finish
Year
2009 NHK Trophy
160.85
2nd
2009
2009 Cup of Russia
160.06
3rd
2009
Alena Igorevna Leonova (born November 23, 1990) is a Russian figure skater. She is the 2009 World Junior Champion and 2007 & 2008 Russian junior national silver medalist.
Leonova was born in St. Petersburg, Russian SSR, Soviet Union. She started skating at the age of 4 and at first trained under Marina Vakhrameeva in St. Petersburg. Her current coach is Alla Piatova, among whose pupils is also Russian champion Ksenia Doronina.
She placed 4th at the 2009 European Figure Skating Championships and was then placed on the team to the 2009 World Junior Figure Skating Championships, her first junior-level competition of the season, where she won the event.
Season
Short program
Free skating
Exhibition
2008-2009
Al Andaluz
by Manolo Carrasco
La Leyenda del Beso
by Raul di Blasio
Ella, elle l'a
by Kate Ryan
2007-2008
La Leyenda del Beso
by Raul di Blasio
2006-2007
Scorchio
by Tonci Huljic
performed by Bond
Competitive highlights
Edit
References
Edit
Community content is available under
CC-BY-SA
unless otherwise noted.