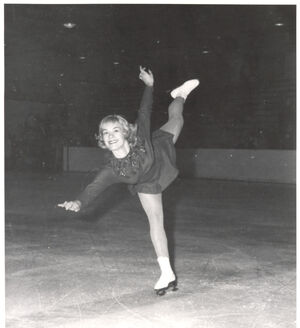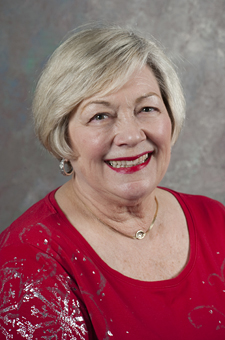 Barbara Ann Roles (also Barbara Roles Pursley, Barbara Roles Williams), born April 6, 1941 in San Mateo, California) is an American figure skater and skating coach. She is the 1960 Olympic bronze medalist and the 1962 United States Champion.
Roles began skating at age 8, after being invited to try figure skating by a friend.[1] She became a student of Nancy Rush, who was her only coach throughout her career.
Roles competed in ice dance with Jim Short. The pair placed second on the junior level at the 1958 U. S. National Championships, and passed two of their gold dances. However, Roles gave up ice dance to focus on her singles career.[1]
After a successful novice and junior singles career, Roles placed second to Carol Heiss at the U. S. Nationals in 1960, earning a spot on the 1960 Olympic team. She retired after winning the bronze medal at those games.[2] She was asked to come out of retirement after Sabena Flight 548 crashed and killed the entire 1961 US Figure Skating Team.[3]
Roles won the gold medal at the U.S. Figure Skating Championships in 1962. She was the first skater to win U. S. novice, junior and senior titles. Only Kimmie Meissner is the only other skater to do this.[1]
She missed the 1963 competitive season, while touring with the Ice Capades.[1].
She came back out of retirement in an attempt to qualify for the 1964 Winter Olympics, but only placed 5th at the national championships and failed to make the team.[4]
In 1969 Roles began coaching; her pupils have included Lisa-Marie Allen, Wendy Burge, Brian Pockar, Vikki DeVries, and Scott Williams. She has coached in southern California, Colorado Springs (at the Broadmoor), Las Vegas, and Delaware.
In 1983 her bronze Olympic medal was stolen. The USFSA helped her recover it in 2003 and it is now part of their collection.[5]
In 2010, she was inducted into the Professional Skaters Association Hall of Fame.[6].
In addition to coaching, Roles works as a Technical Specialist.[1]
Ice Dance
Edit
(with Short)
References
Edit
↑ Nichols, Nikki. Frozen in Time: The Enduring Legacy of the 1961 U.S. Figure Skating Team. Emmis Books, 2006. ISBN 1-57860-260-2.
↑ Benjamin T. Wright, Skating in America
↑ UD skating coach finds gold during search for bronze UDaily, Becca Hutchinson, July 2003
↑ Roles-Williams inducted into Professional Skaters Association Hall of Fame UDaily, June 2010
Community content is available under
CC-BY-SA
unless otherwise noted.