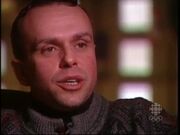 David Wilson is a Canadian former Figure skater who currently works as a choreographer. As a skater, his competitive career was cut short when he was diagnosed with Osgood-Schlatter disease. Following surgery on his knee, then 18-year-old Wilson toured with Ice Capades in North America and then with Holiday On Ice in Europe.
With his then-partner, Jean-Pierre Boyer, the openly Gay Wilson settled in Montreal and began working as a choreographer. Their breakout client was Sébastien Britten.
His past and current clients include Marc-Olivier Bosse Jordan Brauninger, Sébastien Britten, Jeffrey Buttle, Ana Cecilia Cantu, Michele Cantu, Sean Carlow, Sasha Cohen, Alissa Czisny, Franciela Dabdoub, Frederic Dambier, Cederic Demers, Phoebe Di Tommaso, Jessica Dube & Bryce Davison, Marie-France Dubreuil & Patrice Lauzon, Ben Ferreira, Alexe Gilles, Lesley Hawker, Emily Hughes, Kim Yu-na, Amelie Lacoste, Jean-Simon Legare, Jacinthe Lariviere & Lenny Faustino, Christopher Mabee, Rylie McCulloch-Casarsa, Jessica Miller & Ian Moram, Daisuke Murakami, Kensuke Nakaniwa, Molly Oberstar, Nobunari Oda, Brian Orser, Cynthia Phaneuf, Isabelle Pieman, Joannie Rochette, Signe Ronka, Joey Russell, Shawn Sawyer, Jeremy Ten, Mark Vaillant, Lauren Wilson (figure skater), Nicholas Young (figure skater), and Yun Yea-ji.
Wilson currently works out of the Toronto Cricket and Skating Club.
References
Edit
Community content is available under
CC-BY-SA
unless otherwise noted.