Most Recent Results :
Event
Points
Finish
Year
2009 Skate America
148.99
4th
2009
2009 Cup of China
145.99
7th
2009
Skating is so much fun. Every day I have a new experience — like body, music, technique.

[1]
Fumie Suguri born in 1984 in Chiba, Japan is a Japanese figure skater. She is a five-time Japanese and three-time World Championship medalist, as well as the 2004 Grand Prix Final Champion.
Latest News
Edit
| | |
| --- | --- |
| | Fumie Suguri 2005 Four Continents FS |
| Short Program, Four Continents 2009 | Skating to "Tango Para Percusion" by Lalo Schifrin, "Carmen Fantasie", and "Carmen" |
| | Fumie Suguri - Lotte Chocolate commercial |
| Fumie v. male break dancer to see who can do more spins | Commercial for Ghana chocolate |
Image Gallery
Edit
Suguri took skating lessons because of her mother who didn't want her to lose her memories of playing winter sports in Alaska. [2]
Suguri had never heard of the Rolling Stones until she skated to "Paint It Black". [3]
At the end of her 2002 Olympic free program, Suguri accidentally turned the wrong way. [3]
When I was young I didn't think I would skate this long. The skaters are getting younger, and the media likes the younger skaters a lot. I seem to be going in the opposite direction. I may become the oldest skater in figure skating history!

[1]
I am really interested in the artistic part more than the sports side, but the best part about figure skating is that these two elements work in tandem. I like the combination of the two.

[1]
People tell me I cry if I don't skate well, and I skated well and I cried. Everyone thinks I'm crying girl.

[3]
Biography
Edit
Personal life
Edit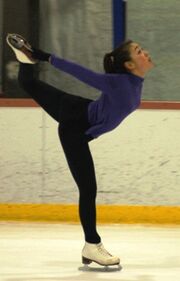 Suguri was born in Chiba, Japan. Her younger sister, Chika Suguri, is also a figure skater.
Her father was a pilot for JAL and Suguri lived in Anchorage, Alaska was a child. As a result, she is bilingual in Japanese and English.
She graduated from Waseda University.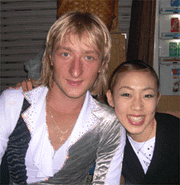 She began skating at age 5 in Alaska. When she returned to Japan, she began training.
In 1994, Suguri visited the practice rink for the 1994 World Figure Skating Championships and learned the triple Lutz jump personally from Michelle Kwan, who was competing in those Worlds. Suguri won her first Japanese national title in 1997, and won it three more times between 2001-2003 and again in 2006.
In 2001, Suguri won the 2001 Four Continents Championships. She is the first Japanese woman to win that competition. She would go on to win that competition three more times in her career and she holds the most Four Continents titles of any Japanese skater and any female skater.
In 2002, she competed at the 2002 Winter Olympics and placed 5th. A month later, she won the bronze medal at the 2002 World Figure Skating Championships behind Michelle Kwan and Irina Slutskaya. Her bronze medal at Worlds was the first medal for a Japanese woman at the World Championships since Yuka Sato won the title in 1994.
In 2003, Suguri won the bronze medal again at the World Championships, this time behind Kwan and Elena Sokolova.
In 2004, she won the NHK Trophy, placed 3rd at Cup of China and qualified for the 2004 Grand Prix Final. Suguri won the Final over Sasha Cohen. Suguri is the first Japanese woman to win that competition.
In 2006, she won the Japanese Figure Skating Championships ahead of Mao Asada and Shizuka Arakawa. She competed at the 2006 Winter Olympics, where she placed 4th. She won the silver medal at the 2006 World Figure Skating Championships behind Kimmie Meissner. She became the first Japanese woman to win three World medals.
In 2007, Suguri finished fourth at the Japanese championships behind younger competitors Yukari Nakano, Miki Ando and Mao Asada missing a spot to the World Championships in her home country. She competed at the Four Continents Championships, where she withdrew due to injury after falling on two jumps in her short program.
In 2008 at the Japanese National Championship, although Suguri placed third after her short program, she stumbled in the free program, finishing fourth overall, again missing a spot on the World Championship team.
Coaching changes
Edit
She trained under Nobuo Sato, a ten-time Japanese national champion, for 19 years, until she moved her training ground to New Jersey to work with Nikolai Morozov. She was previously coached by Oleg Vasiliev for a brief time during the 2004-05 season, but he was fired by the Japanese federation after she struggled with her jumps and had poor results in her competitions.
Season
Short Program
Long Program
Exhibition
2008-09
Fanfan
by Nicolas Jollere
Otonal
by Raul di Blasio
Ein Wiener Walzer
by Ein Wiener Walzer
2007-08
Take Five
by Dave Brubeck
Oblivion Tango (Calambre)
by Ástor Piazzolla
Cell Block Tango from Chicago (musical)
by John Kander
Clair de lune from Suite bergamasque
by Claude Debussy
2006-07
Bolero
by Maurice Ravel
Ein Wiener Walzer + Lacus Pereverantiae + Fantasia (Original song)
by Ein Wiener Walzer, Karl Jenkins
Carmen
by George Bizet
The Chronicles of Narnia
The Girl from Ipanema
by Antonio Carlos Jobim
2005-06
Cancion Triste + Toca Orilla
by Jesse Cook, Alejandra Nuñez
Piano Concerto No. 2 in C minor
by Sergei Rachmaninoff
Oblivion
by Ástor Piazzolla
Séisouso from Quidam
by Cirque du Soleil
2004-05
The Pink Panther (soundtrack)
by Henry Mancini
Tango Para Percusion + Carmen + Carmen
by Lalo Schifrin / Franz Waxman / Georges Bizet
Adagio
by Lara Fabian
Séisouso from Quidam
by Cirque du Soleil
2003-04
Sympathy for the Devil + Paint It, Black
by The Rolling Stones, performed by Angèle Dubeau & La Pietà
Symphony No. 40 + Piano Concerto No. 23 in A major
by Wolfgang Amadeus Mozart
At the Shore
by Susan Osborn
2002-03
Larghetto from Piano Concerto No. 2
by Frédéric Chopin
Excerpts from Swan Lake and Russian Dance from Swan Lake
by Pyotr Ilyich Tchaikovsky
Sanctus (based on Pachelbel's Canon)
by Libera
2001-02
Ellens Gesang III Ave Maria, song for voice & piano, D. 839 Op. 52/6
by Franz Schubert
Piano sonata No.14 in C sharp minor Moonlight Op.27/2
by Ludwig van Beethoven
Don't Cry for Me, Argentina from Evita (film)
by Madonna (entertainer)
2000-01
Rustle of Spring, Op. 32 No. 3
by Christian Sinding
Jupiter (planet), the Bringer of Jollity from The Planets
by Gustav Holst
Ave Maria (Giulio Caccini)
performed by Charlotte Church, Composed by Giulio Caccini
1999-00
Blue Londo A La Turk
by Dave Brubeck
Flute concerto + The Fog is Lifting
by Carl Nielsen
Theme from Mahogany (Do You Know Where You're Going To)
by Mariah Carey
The Storm + Ave Maria (Giulio Caccini)
performed by Vanessa-Mae / Charlotte Church, Composed by Giulio Caccini
1998-99
De profundis + Wanderer Fantasy
by Franz Liszt
Here the deities approve
by Henry Purcell
Frozen (song)
by Madonna (entertainer)
Toccata and Fugue + Air on the G String + Cello Suites (Bach)
by Johann Sebastian Bach
1997-98
Excerpts from Restoration
by James Newton Haward
The Seasons
by Alexander Glazunov
1996-97
Warm Air + Toccata and Fugue
performed by Vanessa-Mae
Violin concerto + Liebesleid + La Sylphide
by Pyotr Ilyich Tchaikovsky / Fritz Kreisler / Herman Severin Løvenskiold
1995-96
West Side Story
by Leonard Bernstein
Competitive highlights
Edit
Fumie Suguri has had a long competitive career. Her competitive highlights by season are split up into the tables below.
Post-2004
Edit
1998-2004
Edit
| Event/Season | 1998-1999 | 1999-2000 | 2000-2001 | 2001-2002 | 2002-2003 | 2003-2004 |
| --- | --- | --- | --- | --- | --- | --- |
| Winter Olympics | | | | 5th | | |
| World Championships | 20th | | 7th | 3rd | 3rd | 7th |
| Four Continents Championships | 5th | 4th | 1st | | 1st | |
| Japan | 2nd | 3rd | 1st | 1st | 1st | 2nd |
| Asian Winter Games | 3rd | | | | 2nd | |
| Grand Prix Final | 5th | | | | 6th | 1st |
| Skate Canada | 2nd | | 3rd | 4th | 2nd | |
| Cup of China | | | | | | 3rd |
| NHK Trophy | 3rd | 8th | 5th | 7th | 4th | 1st |
| Bofrost Cup | | 2nd | | | | |
References
Edit
↑ 1.0 1.1 1.2 Suguri perseveres as rivals grow younger, Jack Gallagher, Japan Times. November 11, 2007.
↑ http://www.mceskating.com/biofumie.shtml Fumie Suguri: Olympian, World Bronze Medalist], Michael Collins Enterprises, mceskating.com.
↑ 3.0 3.1 3.2 News, Features: The Latest on Fumie, Micheal Collins Enterprises, mceskating.com.
External links
Edit
Community content is available under
CC-BY-SA
unless otherwise noted.