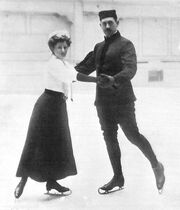 Heinrich Burger (May 31 1881 - April 27 1942) was a German figure skater. He competed in both singles and pairs events. He was figure skater champion and two-time World champion together with Anna Hübler.
Burger and Hübler were the first world champions and the first Olympic champions in pairs figure skating. They never became European champions, because the European championships for pairs were established in 1930. They skated for the club Müchener EV (Munich EV).
Heinrich Burger was also a lawyer.
Results as a single skater
Edit
1904 – 2nd place
1906 – 2nd place
1907 – 5th place
1908 – 3rd place
European Championships
Edit
1904 - withdrawn (5th after compulsory figures)
1905 – 2nd place
German Championships
Edit
1904 – 1st place
1906 – 1st place
1907 – 1st place
Results as a pair skater with Anna Hübler
Edit
1908 – 1st place
1910 – 1st place
European Championships
Edit
German Championships
Edit
1907 – 1st place
1908 – not held
1909 – 1st place