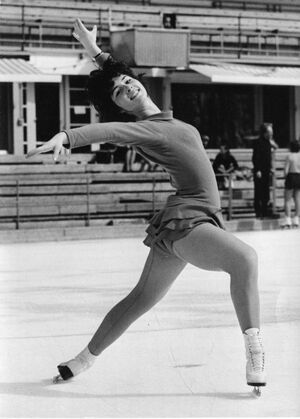 Lorraine Hanlon (married name: Comanor, born in 1946) is an American figure skater who competed in ladies singles in the early 1960s. She is the 1963 U.S. national champion.
She won the junior title at the 1961 United States Figure Skating Championships. She was invited to participate in an exhibition following that year's World Figure Skating Championships but declined because her school would not allow her to go.[1] That decision proved fateful, as the flight she would have been on (Sabena Flight 548) crashed near Brussels, Belgium, killing all on board.
Hanlon won the silver medal at the 1962 U.S. Championships, and the gold at the 1963 U.S. Championships.
Hanlon was a graduate of the Winsor School in Boston, and was attending the Swiss Alpine College in Switzerland the same year she won her U.S. title. She had previously spent summers training in Europe and spoke fluent French and German.[2] In the 1963-64 season she returned to Boston and continued to skate while attending Jackson College,[3] but finished 4th at the U.S. Championships and therefore failed to qualify for the 1964 Winter Olympics.[4]
Hanlon started skating at age 6, when her mother took her to the Skating Club of Boston looking for cool air to ease the little girl's asthma. She was coached for much of her early career by Cecelia Colledge.[5] After 1959 she was coached by Karli Schäfer and then Felix Kaspar.
After her skating career ended, Hanlon became a physician and later went into medical research.
References
Edit
External links
Edit
Community content is available under
CC-BY-SA
unless otherwise noted.