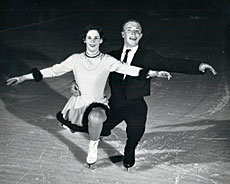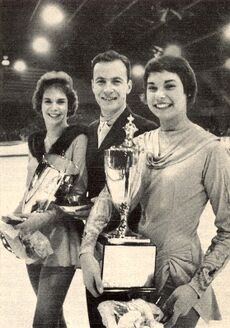 Maribel Yerxa Owen (April 25 1940 – February 15 1961) was an American pairs skater.
The first child of Guy Owen and Maribel Vinson, she was named for her mother. From a young age she began skating in the Pairs competition. Under her mother's tutelage, in 1956 at age 15, she and her partner, Charles Foster, won the National Junior Pairs title following which she appeared as a featured performer in the highly successful Boston Skating Club's "Ice Chips" show.
A student at Boston University, Maribel Owen majored in Sociology and Anthropology while continuing to participate in competitive ice skating. With partner Dudley Richards, she was a member of the 1960 United States Olympic team at Squaw Valley, California. The following year she and Richards won the U.S. Pairs figure skating national championship at Colorado Springs, Colorado and as a result they were part of the American team that was scheduled to compete in the World Championships in Prague, Czechoslovakia.
Maribel Y. Owen was 20 years old when, along with the rest of the U.S. skating team, she died with her sister and mother in the Sabena Flight 548 aircraft crash near Brussels, Belgium while on their way to Prague.
She is interred next to her mother and sister in Mount Auburn Cemetery in Cambridge, Massachusetts.
(pairs with Dudley Richards)


(pairs with Charles Foster)
External links
Edit
References
Edit
Community content is available under
CC-BY-SA
unless otherwise noted.