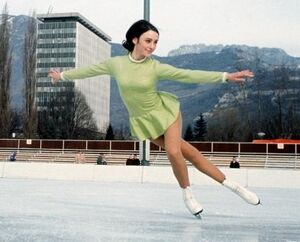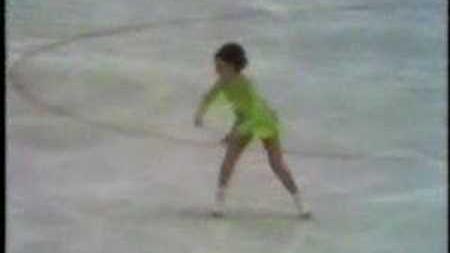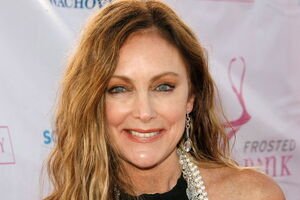 Peggy Gale Fleming (born July 27, 1948 in San Jose, California) is an American ladies skater who won an Olympic Gold medal in 1968 and has been a television commentator on figure skating for over 20 years, including several Winter Olympic Games.
Biography
Edit
In 1961, when Fleming was 12 years old, her coach William Kipp was killed in the crash of Sabena Flight 548 along with the rest of the United States figure skating team while en route to the 1961 World Figure Skating Championships. Fleming was subsequently coached by Carlo Fassi. Her unusual style led to five U.S. titles, three World titles and the gold medal in the 1968 Olympics in Grenoble, France. Her award in Grenoble was singularly important for the American athletes and the nation as a whole, for this was the only gold medal that the U.S. Olympic team won in the 1968 Winter Games. It signaled a return to American dominance in the sport of women's figure skating following the unprecedented tragedy of the 1961 plane crash.
Following her Olympic win, she starred in the first of five television specials. For several years she toured the U.S. as a special guest star in the Ice Follies ice show, cheered on by huge crowds of admirers at certain large cities along the show's tour route. One of the memorable highlights during her ice shows was a solo skate in blue light to the music of "Ave Maria." Peggy Fleming has skated for four U.S. presidents and was a featured performer at the 1986 re-dedication of the Statue of Liberty. She was a commentator on figure skating for ABC Sports for over 20 years, and a spokesperson for the National Osteoporosis Foundation.
In 1970, she married dermatologist and former ice dancer Dr. Greg Jenkins. They live in the San Francisco Bay Area. They have two sons, Andy and Todd (born 1977 and 1988) and three grandsons.
Fleming was diagnosed with breast cancer in 1998. The cancer was detected in its early stages, and surgery was successful. She became a breast cancer activist who recommends not procrastinating and early detection.
Fleming and her husband also own and operate Fleming Jenkins Vineyards & Winery in California.
She appeared in the movie Blades of Glory as a judge.
Competitive highlights
Edit
Awards and honors
Edit
External links
Edit
Community content is available under
CC-BY-SA
unless otherwise noted.