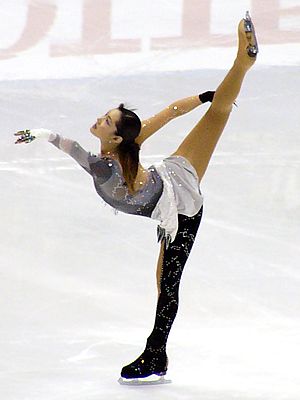 I never expected that I would be the first one to win a medal for Japan, so I didn't feel that pressure. But I'm very happy that I'm the one who won it.

[1]

Shizuka Arakawa (荒川 静香, Arakawa Shizuka, born December 29, 1981) is a Japanese figure skater. She is the 2006 Olympic Champion and the 2004 World Champion. Arakawa is the first Japanese figure skater to win the Olympics. She is the second Japanese figure skater to win an Olympic medal, after Midori Ito, and is the second Japanese woman to win a gold medal at the Winter Olympics, after skier Tae Satoya. Her gold medal was the only medal for Japan at the 2006 Winter Olympics.
Arakawa retired from competitive skating following her Olympic win. Following her retirement, she began skating professionally in ice shows and exhibitions. She also works as a skating sportscaster for Japanese television.
Latest News
Edit
| | |
| --- | --- |
| Shizuka Arakawa 2006 Olympics Freeskate | Shizuka Arakawa SP Fantasy Impromptu (2006 Olympics) |
| Skating to music from Turandot | 2006 Olympic Short Program |
| LOTTE CM Shizuka Arakawa がんばれ!ニッポン!:荒川静香 | |
| Commercial for Lotte chocolate | |
Image Gallery
Edit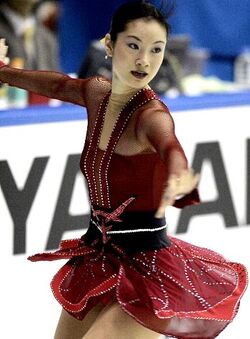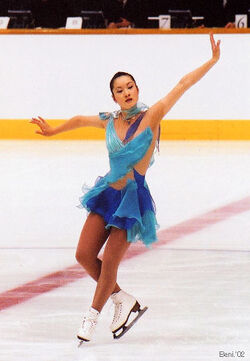 I like to skate to music with a story. Something big that I can skate to. If you compare skating to ballet, there's a story you have to follow in ballet. But in skating, I can tell my own story by performing whatever feels best with the music.

[1]
It makes me happy to skate in ice shows. I want to show people the greatness of skating. This is my dream.

[6]
I'm glad that I can end my career feeling satisfied. I'm not leaving any regrets as I embark on a new road.

[6]
I went to the ice rink and saw the kids with cute clothes. I wanted to wear the beautiful costumes. I actually started swimming first, skating came later when I went to a private skating school for lessons.

[4]
Figure skating was not that popular back then (when I was growing up). I was not comfortable with people asking me questions about skating back then, so I tried to hide the fact that I was doing it. But now I would like to show people how wonderful figure skating is.

[7]
I was surprised to be the first Asian to win the gold. I never thought about why an Asian had not won in the past. I just hope I set a path for the next generation of Asian skaters, so they can win a medal in the future.

[7]
On becoming a TV commentator:
Every athlete has a passion to rise to greater heights. That's what I would like to report on. To be honest, I'm more nervous about going on the air than when I was at the Turin Olympics.

[8]
Personal life
Edit
Arakawa was born in Shinagawa, Tokyo, Japan, and grew up in Sendai, Miyagi, the largest city in the Tohoku region. She is the only child of Koichi and Sachi Arakawa. She was named Shizuka after Shizuka Gozen.
She enrolled at Waseda University in March 2000, and graduated with a Bachelor's degree in social sciences in 2004, while still competing as a skater. She won the 2004 World Figure Skating Championships days after completing her graduation examinations at Waseda University.
She lived and trained for a time at the International Skating Center of Connecticut in Simsbury, Connecticut in the United States after the closure of the Konami Sports Ice Rink in Sendai, where she began her career.
Arakawa cites gourmet cooking as one of her hobbies. She collects beanie babies, has a pet shih tzu (named Charo) and hamster (named Juntoki).
Early career
Edit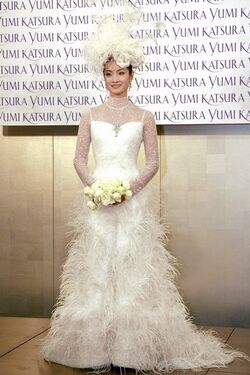 When Arakawa was 5 years old, she became interested in skating and entered the Chibikko Skate School.
She started ballet lessons at 7. While still 7, Arakawa had begun training with former Olympian Hiroshi Nagakubo, a pair skater who competed in the 1972 Winter Olympics in Sapporo, Japan. She was landing triple-jump salchows at age 8.
In 1994, she began participating in Japanese national skating competitions. She was named the 1994, 1995, 1996 All Japan Junior Figure athlete. Arakawa progressed through the Japanese ranks quickly and was the first skater in Japan to win three consecutive junior national titles.
Senior career
Edit
Arakawa was the senior national Japanese champion in both 1998 and 1999.
Arakawa made her Olympic debut when she represented Japan in the in at age 16. The and of Japan attended the ladies' free skate event. She placed 13th at the Nagano Olympics. At this time, she was ranked number 2 in Japan.
In 2002, Arakawa finished second at Japan's national championships and as a result was not named to the Japanese 2002 Winter Olympics team.
During the 2002-2003 skating season, Arakawa won the Asian Winter Games and the Winter Universiade. She took her second consecutive silver medal at the Four Continents Championships. She finished fourth at the ISU Grand Prix Final and took the bronze at the NHK Trophy. Arakawa placed fifth at the Cup of Russia, and later finished third at the Japanese Nationals, marking her fifth medal from this meet, with two golds and two silvers from previous seasons.
In 2004, she won the 2004 World Championships in Dortmund, Germany, after landing seven clean triple jumps. She is the third Japanese woman to win this title after Midori Ito who won in 1989 and Yuka Sato in 1994.
Arakawa had planned to retire after the 2004 World Championships, but her victory there convinced her to change her plans. She struggled with a foot injury, homesickness and motivation, and was beginning to trail behind younger Japanese competitors like Miki Ando and Mao Asada.
Her 9th place finish at the 2005 World Championships was the motivation she needed to stay in the sport and regain top form. She felt she could not quit on such a down note. In November 2005, Arakawa called figure skater Nikolai Morozov and asked if he would consider coaching her. He agreed.
2006 Winter Olympics
Edit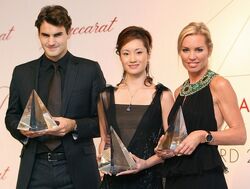 At the 2006 Winter Olympics in Turin, Italy, Arakawa was in third place behind Sasha Cohen (trailing Cohen by only a point) and Irina Slutskaya after the short program. Arakawa skated to Fantasie Impromptu by Chopin for her short program. Although Cohen and Slutskaya were the heavy favorites for the gold medal, both fell during the long program.
Arakawa skated to Vanessa Mae's Violin Fantasy based on Turandot by Puccini for her long program. One of the highlights of the program was when she performed an Ina Bauer and then did a three jump combination. "Ina Bauer" became a household word in Japan as a result. Arakawa skated a clean free-skate program, with no falls. Although she had planned a triple-triple combination for the free skate, she did not perform it. She changed it into a triple salchow-double toe loop combination.
Her free skate earned 191.34 points, almost eight points ahead of the second-place Cohen (183.36), earning her the gold medal. Slutskaya was third at 181.44.
Arakawa's Olympic win was the first in the event for a Japanese skater. Her gold medal gave Japan its first and only medal of the 2006 Winter Olympics, and she became just the second Japanese woman to win a Winter Olympic gold. At age 24, Arakawa is the oldest women's Olympic skating champion in more than 80 years. Florence "Madge" Cave Syers from the United Kingdom was the oldest when she won the Olympic title at age 27 at the 1908 Summer Olympics in London, United Kingdom which featured the first Olympic figure skating events. Arakawa also was the second Japanese woman to win a figure skating Olympic medal of any kind, after Midori Ito. Arakawa is the second Japanese woman to win a Winter Olympic gold, after Tae Satoya.
After winning her Olympic title, Japanese Prime Minister Junichiro Koizumi called Arakawa in Turin, Italy to congratulate her. Koizumi said, "I cheered for you with excitement while I watched television. All the Japanese people are rejoicing. I give a perfect score to every bit of your performance."
Professional career
Edit
Arakawa continues to skate in exhibition programs and is a regular skating commentator for Japanese TV. She competed in the 2006 on the World team.
In 2006, Arakawa appeared in a Japanese TV drama, Shichinin no onna bengoshi (7 female lawyers), presented by Asahi TV. She played the role of a cool public prosecutor, Yayoi Shimasaki for the 8th episode.
Signature moves
Edit
Arakawa is known for her spins and jumping ability, particularly her difficult triple-triple combinations. Arakawa is able to do triple-triple-triple combinations. She landed a triple salchow-triple toe-triple loop while practicing at the 2006 Olympics. In 2004, she added a to her repertoire.
Arakawa is also known for her spirals. Her signature spiral is a "Y-spiral" where she releases her free leg and completes the spiral with her leg still close to her head, without the hand assist.
Her trademark move is the Ina Bauer. Arakawa's interpretation of this move putting her in a full backbend. Due to Arakawa's use of this move during her free skate at the 2006 Olympics, the term "Ina Bauer" became very popular in Japan, and Arakawa's performance of it became iconic. The term Ina Bauer is often referred to in Japan by Arakawa's name.
Season
Short Program
Long Program
Exhibition
2005/2006
Rhapsody on a Theme of Paganini
Fantasie Impromptu by F. Chopin
Fantasy by Frederic Chopin
Violin Fantasy on the opera Turandot by G. Puccini
You Raise Me Up
2004/2005
Madame Butterfly by Giacomo Puccini
Romeo and Juliet Overture by P. I. Tchaikovski
2003/2004
The Umbrellas of Cherbourg by Michel Legrand
Swan Lake by P. Tchaikovski (modern version)
Violin Fantasy on the opera Turandot by G. Puccini
2002/2003
Swan Lake by P. Tchaikovski (modern version)
Titanic (soundtrack) by James Horner
Media appearances
Edit
荒川静香 Moment Beautiful skating (2006) -
TORINO2006 日本女子 (2006) -
References
Edit
↑ A golden princess/Quiet deserving winner, Gwen Knapp, San Francisco Chronicle. February 26, 2006.
↑ 4.0 4.1 4.2 4.3 Figure Skater Shizuka Arakawa Finishes Long Season, Barry Mittan, Golden Skate. August 30, 2003.
↑ Shizuka Arakawa|Profile, shizuka-arakawa.com.
↑ 6.0 6.1 Shizuka Arakawa 2006 Gold Medalist, Michael Collins Enterprises.
↑ 7.0 7.1 [https://archive.is/20131014212454/search.japantimes.co.jp/cgi-bin/sp20070318a1.html Golden girl Arakawa retains passion after Olympic glory], Jack Gallagher, The Japan Times. March 18, 2007.
↑ Shizuka Arakawa to be TV commentator for Olympics}}, Japan Today. May 22, 2008.
External links
Edit
Japan Skates - Website dedicated to the Japanese ladies figure skating team featuring news, rare photos and exclusive interviews
Community content is available under
CC-BY-SA
unless otherwise noted.