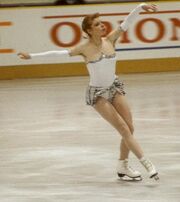 Simone Koch (born October 25 1969 in Dresden), married name Schnabel, is a German Figure skater, who reperesented East Germany. At age 14 she was the 1983 junior world champion. Most of her senior career was overshadowed by her East German rival, Katarina Witt.
Biography
Edit
Simone Koch learned her first triple jumps with coach Ingeburg Walter (still coach at the Dresdner EC). Later she was coached by Ingrid Lehmann in Berlin. Simone Koch represented the club SC Einheit Berlin.
In 1983, at the age of 14, she had already become junior world champion. In 1984 she was awarded the silver medal at the junior world championships placing behind another East German, Karin Hendschke. Koch became the 1984 and 1988 silver medalist at the East German Championships, each time placing behind Katarina Witt. In 1989 Simone Koch was one of the favourites for the title of European Champion. However, she lost the qualifying competition in East Germany to Evelyn Großmann and Simone Lang.
She married Günther Schnabel. The couple has a daughter (born 1990): Lisa-Maria. In 1992 and 1993, after the German reunification, Simone attempted to qualify for international championships, but did not succeed.
Competitive Highlights
Edit
External links
Edit
Community content is available under
CC-BY-SA
unless otherwise noted.